BURNED! LOST! DIED!
Shinjuku Homeless Cardboard Houses

Wide Area Burned
Early Morning February 7, 1998

5 Died
Including 1 Woman
We express our heartfelt condolences on their death.
Additional Information
Supporting Group announced that the Homeless People should be Self-Evacuated
from Shinjuku Station area after Feb. 14 Noon.
On Feb. 21, Completely They Were Swept Away!
Great Arts BURNED, too!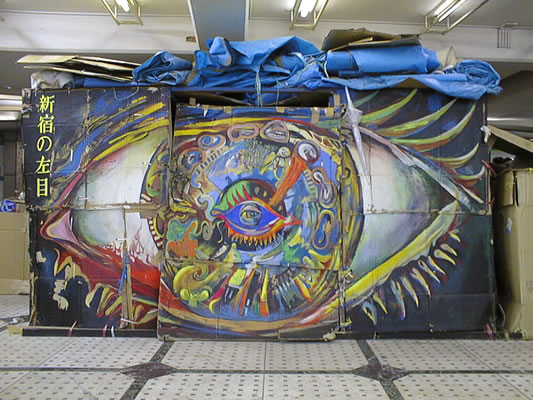 There were many of Homeless Cardboard Houses in Shinjuku station, Tokyo.
The above was the symbol called "Left Eye of Shinjuku".
What had The Left Eye ever been seeing ...
---
Painted by Take Junichiro, Yoshizaki Takewo, Yamane Yasuhiro and Others
Photographed by Kunio / eyedia.com
---
Their houses were made of corrugated cardboard boxes.
Young artists used to paint on the cardboard boxes.
Large number of people use Shinjuku station to commute and
used to pass through the great paint arts every day...


Takewo was painting Japanese Kimono ladies on.


Visit Cardboard-house-painting.jp Website!
---